The FoodPack 1465 is as a fully automated tray-sealing system, featuring a large sealing area, and is designed for seamless integration into existing production lines. Its high mould yield and rapid cycle times make this packaging machine an efficient solution for extensive production volumes. CPS (Constant Placement System) technology comes as standard on this machine, which optimises its production capacity through the interpolation between the jaws and the phasing belt. The machine's architecture also enables it to be customised for a wide range of packaging tasks, including poultry, snacks, meat, ready meals, fish, and fresh produce.
Sealing

Gas Flush

MAP/ATP

Vacuum

Skin

Overskin

Extraskin

Extraskin on Cardboard
| | | | |
| --- | --- | --- | --- |
| Technical Data | FoodPack 1465 | | |
| Dimensions | 342 x 90 x h 190 cm | | |
| Weight | 1350 Kg | | |
| Air Consumption | 6 bar - 5 Nlt/cycle | | |
| Sealing Area | 680 x 350 x h 120 mm | | |
Technology that allows a continuous inflow of trays into the machine. The conveyor belt automatically separates the trays that are transported, without ever stopping, into the sealing mould. To do this, the jaws are electronically interpolated with the conveyor belts.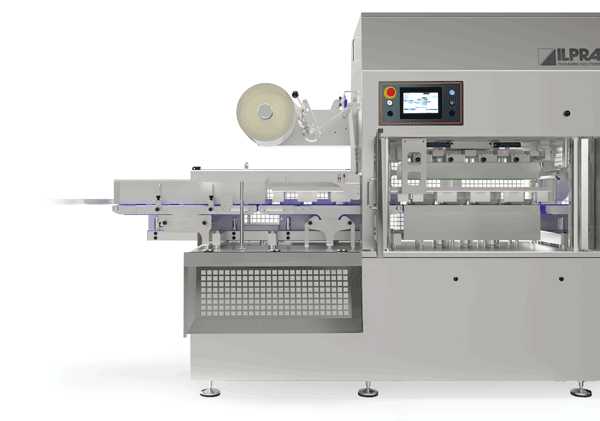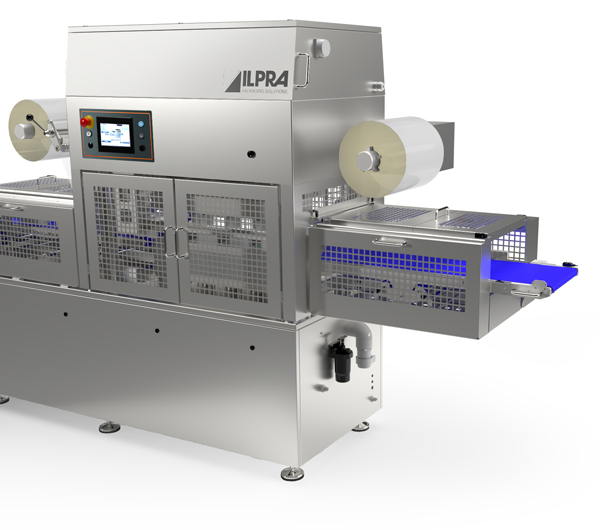 Constant torque servo drive motors
The movement of the unwinder/rewinder system is guaranteed by two brushless motors: the first is on the unwinding shaft and has the function of unwinding the film according to the quantity set by the control panel. The second brushless motor is on the rewinding shaft and always guarantees the correct film tension in relation to the diameter of the waste reel. These new features allow accurate control of all movement parameters and precision unwinding of the film, both neutral and printed.
The photocell communicates if a tray is incorrectly positioned, the alarm stops the sealing operation and prevents the tray from being crushed.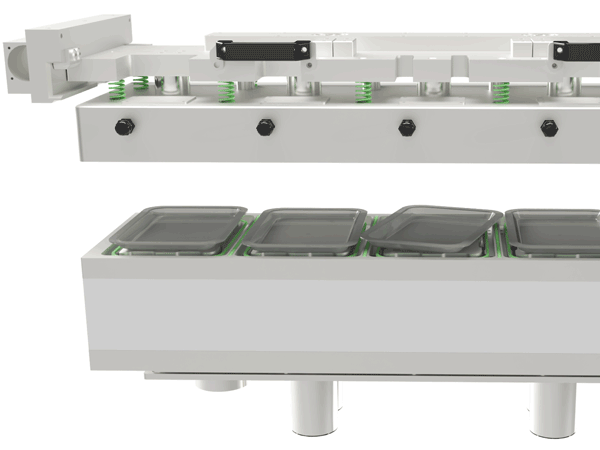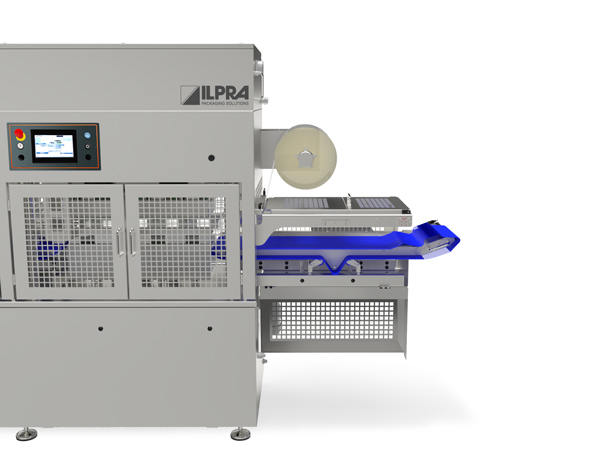 This allows all components at the inlet and outlet of the machine to be sanitised effectively in a short time.
E-MEC TECHNOLOGY

Based on the fully electromechanical movement of the working station, this technology enables higher speed and productivity.

PROGAS SYSTEM

Technology patented by ILPRA that guarantees a lower use of gas and a higher working speed. Available on all models in this line.

CONSTANT PLACEMENT SYSTEM

Cutting-edge technology that enables a constant inflow of trays. The interpolation of the belts and jaws increases the production speed.

Optional: EXTRASKIN SYSTEM

It allows Skin packaging even at high degrees of protrusion.

Optional: PRE-HEATING SYSTEM

Pre-heating of the film to optimize packaging in Skin.

Optional: PREDICTIVE

Predictive maintenance system that enables the planning of the overhaul and replacement of components.

Optional: ID CONTROL SYSTEM

Recognition of authorised personnel by badge. Up to three levels of identification.

Optional: ANTI-CRUSH SYSTEM

The machine checks the correct positioning of the trays, stopping sealing in the event of incorrect positioning.